Hi! You all know that I'm getting pretty desperate about my broken PC and really want to update because tonight I headed to Wota Distractions in AmeWota, and did the WHOLE AKB48 ranking. Research Students and Kikuchi included. Why did I do such a thing when I don't even know who the hell 90% of the Kenkyuusei are anyway, is beyond me, but here, I plan on giving a tiny little reason on why each girl is in each position (and also, I'm kind of sick of always having to say stuff about the girls of Team A, because it's probably my least favorite team all in all, I want to rave and yell about Team K!!! Dammit… BTW, all pics are scooped from google, so if you see your pic and want me to get it down or something, please say so…
1. Oshima Yuko:
Yuko has always been my No. 1, and she will always remain in that position, I bet… especially now that Maimai's probably going to be gone. Anyway, the first time I watched an AKB PV was Skirt Hirari, and while I found Mai to be very pretty, none of these girls really motivated me to go and search more or anything like that, I did more research with all the "enjo kosai" fuss of Seifuku, and then I watched the PV and I fell in love with Yuko. She was insanely pretty, with this huge eyes and she looked so lonely… I completely fell for her, and from then on, my love has only grown over the years. Yuko is an amazing actress, not only that, but she's also a great singer, she's an amazing dancer with lots of energy to spare (which is a must in Team K) and she's always giving 200% in every performance. I just love her, she's so many kinds of awesome, always carefree, being goofy and doing funny faces. And you know, I find it pretentious when people say that they like an idol because it's just like them, but I can relate with Yuko in many many things. She's a bit of a tomboy, she's a self proclaimed tsundere… It's not that I am like Yuko, it's that I admire girls who are like Yuko. Ok, I could go on, but I won't 😀 I've made my point clear anyway…
2. Oshima Mai
Just like I admire girls like Yuko in real life, I hate girls like Maimai. Which fascinates me all the most, because I ADORE this girl, like, beyond reason. She's kind of a self proclaimed dumb girl, very sexy and trendy, and according to AKB0ji59fun, quite money oriented. However, Mai's greatest talent are her amazing performing skills and sheer starpower. Mai was born to be a star, and she has such a magnetic personality that leaves you in awe even if she's just being the butt of all the jokes, and wearing a horse mask… 
3. Katayama Haruka
Oh yeah, neglected Team B has a special place on my heart, you can bet that! Haachan… well, I wasn't expecting to like her, I actually didn't know what to make of Team B in general to begin with, but then I watched the previews for B3, and her unit song "Junjou Shugi" is just the most amazing piece of music ever made for an idol trio. Her voice is deep and sultry, and she dances really well. It's pretty amazing too, because she has a very gentle and nurturing personality, but when it's sexy time WOW! I love how she's a multitasker, and so talented and sweet natured.
4. Tojima Hana:
Why is Hana so popular with overseas fans? I can't really answer this question, but I can safely say that Hana is pure fire. I like how real she is, whenever she's interviewed she conveys such a candid feeling, like she could be anyone you know or something. And then on stage… wow… Hana is an amazingly hot dancer, and I really like her voice, even though it's all high pitched, she has great control. Also, she really looks hot too, she has like a feline quality to her, be her slanted eye or her pouty lips, Hana is the perfect mix of hot superstar and girl next door (or should I say lion next door?) GAO!!!
5. Masuda Yuka:
OMG I can't believe that I couldn't find a more recent picture… Sure, I could raid S48's imageboard, but I'm too lazy, so deal with the oldness of most of these pics 😛 Yuka… she's got the greatest voice in idol world, and I won't be told otherwise. Not only that, but Yuka has more stage presence than all of MM combined. No, seriously. She's so good that in the first concert shuffle version, she did like 4 songs where she was the main singer. It's a shame that she's so underused in singles, I find her very pretty (she reminds me a bit of Megukami…) and she's really hot (she has curves…) so I don't really understand why she's so neglected… But as long as she keeps getting the best songs in stages, I won't complain. Much.
6. Umeda Ayaka: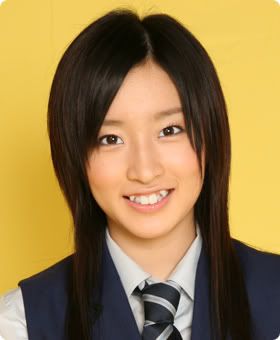 Another old ass pic. She doesn't have fangs now… Ok, I'll be brutally honest with you guys, the first time I saw Umechan I thought "What a dork! She's kind of ugly…" and then I fell in love with her sweet and clumsy personality, and she's not ugly, she's just not all that phtogenic sometimes! Besides, regardless of how much of a dork she is off stage, she's THE performer. Her dance moves are something else, she just does it better than anybody else IMO, and her very sweet soft voice is soothing and beautiful, she's a top notch artist. So this is the girl Tsunku rejected to go pick Koharu. I LOL at Tsunku, the adorable and quirky Umechan would've been a good addition to MM, but she does even better in Team K, when she can shine and prove her worth!
7. Nakanishi Rina:
Rinatin didn't really make an impression on me until she opened her mouth, sang solo lines, and I fell in love with her angelic voice. She's a very sweet natured girl, looks like a delicate kind of character, but despite of this she's very commited to her job and is always lively. I'm also extra excited about her now ever since I watched the H1 DVD, where she appears 0wning the stage wih a brand new badass attitude. I hope that she gets an amazing unit for A5, and that she doesn't get sick again…
8. Takahashi Minami:
Takamina IS AKB48. She's a legend. That's all you need to know. It's like… imagine how Takahashi Ai would be if she had a personality, well, that amount of amazingness and then some is Takamina.
9. Miyazawa Sae
Sae is very deserving of her nickname "Genking" She's always upbeat, hilarious, making funny faces, screaming and being over the top. However, she's not annoying at all, particularly because she knows when she has to tone it down, and when a song requires a serious mood, then BOOM! Sae is amazing at that. She can be sexy, evil, goofy… all in one, so this is a one of a kind class clown! You'll notice Sae on stage, and that's what I love about her, because, ultimately, that's what an idol is supposed to do: Get noticed. She sure knows how to grab your attention.
10. Kasai Tomomi:
WIth the exception of Sato Yukari's amazing rise into my little wota heart, Kasai is probably the girl who has grown on me the most. I never really cared much about her, and then suddenly, one day, I found her the most adorable girl on Earth. She's another example of a girl I would totally hate IRL, but love to death as an idol. Kasai's voice is her biggest charm (even though she claims that would be her droopy eyes…) as it is insanely high pitched and anime-ish. But not only this, she is IMO, the greatest Loli of the AKB roster. I mean, just look at her "sexy" face. That's hotter than Meetan, seriously. I love that lolilicious appeal of her, and the fact that she's like a fanboy's dream come true makes her a perfect idol. Ah… sweet little Tomomi-chan…
11. Ono Erena
Another Loli… In Erena's case though, I wouldn't really call her sexy, as she's not really fit for such roles, but she's amazing at being the cutest thing to ever walk the face of the Earth. She used to be in my top 3, but I'm not all that hyped up about her lately, maybe because the latest stages have been filled with sexy songs (like H1) and she doesn't really look comfortabe doing those. She's very endearing though. I mean, infectiously endearing. You watch her for 2 minutes and you want to like…. adopt her or something.
12. Sato Natsuki
Screw that fake ex-MM bitch, this Nacchi is the only one I care about 😛 I can't believe she made it so high in my ranking though… Wow. I love her singing, she has a clear voice and controls it very well. She's an average dancer, but she has tons of attitude and drive! So she's a treat to watch performing. She happens to have the most amazing hair of AKB ( probably rivaled only by Kuramochi) and is a funny girl. Real funny. Hell, she's so funny that I LOL like a retard and I don't even understand what she's saying…
13. Kashiwagi Yuki
Yuki's voice is like a dream. I'm not even kidding. Also, I love her elegant lady like qualities, and her stuck up side (that she doesn't show too often) really cracks me up. She's so beautiful… I tend to be a bit… mesmerized by her… so… sorry for my babblings…
14. Noro Kayo
Noro is hilarious. She's even funnier than Nacchi. That's her main charm, but by no means her only one. She's gorgeus (reminds me a bit of Ogawa Makoto in the face) a great dancer and an amazing singer (as usual in Team K). What I find funny is how big she looks next to the other AKB girls, even though her measures (90-60-90) are the "perfect ideal" of measures a woman should have in my side of the world… LOL
15. Minegishi Minami
That's the worst pic ever. But you all should know who she is by now anyway. I'm starting to get tired and really should be sleeping, so from now on, it'll be really short and sweet. Miichan is the LOLita (I can't believe how clever my nickname is :D) She's usually pretty goofy and silly, but has unmatched dancing skills, a voice that I adore and a devious streak that I adore even more. And she's pretty loli too. Go figure.
16. Sato Yukari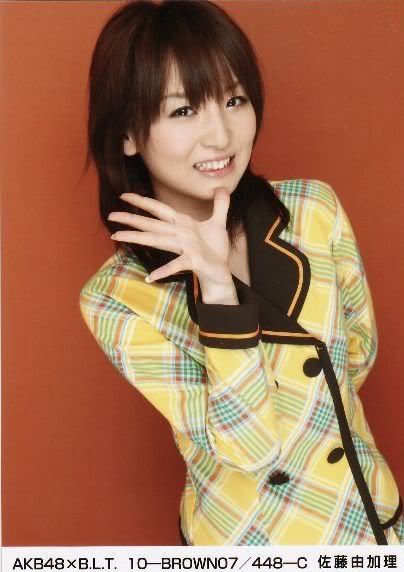 Climbing all the way from rock bottom to top 20, the lovely stuck up bitch gravure idol extraordinaire Yukarin!!! I adore this girl, and I feel like I ramble about her all the time. So yeah… She's awesome. That's all.
17. Kawasaki Nozomi
Nozomi is TOO pretty. It's like… you'll die out of prettiness if you stare at her for too long. I love er girl next door attitude and shyness too, she's very real. And also, if I were a guy, I'd probably want a girlfriend like her. I don't know why, but that's just something I feel…
18. Tanabe Miku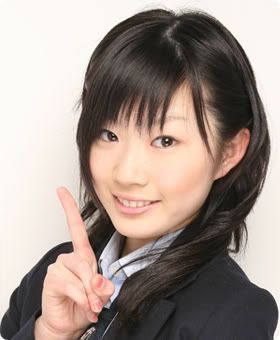 Hell, this ranking will make me look like a Team B hater O_O I'm not though, I just happen to like them more as a collective, than as individuals. anyhow, Tanamin… I have very little idea about her, but I love what I've seen so far. She's the most beautiful girl in Team B and she always seems to be fascinated to be on stage, I don't know how to describe it, but that's the vibe I get from her. She's very energetic too, and an amazing dancer. So that adds points too…
19. Ohe Tomomi
yes you get a worse pic than Miichan's what can I do… Anyway, Ohyay is so crazy that she's endearing. She's like… someone you want to go with into wonderland or crackland or whatever she's on, man, she's just out of this world! Her ventriloquous singing, overly excited way of talking and spastic dancing make her one of a kind. She's just Ohyay…
20. Akimoto Sayaka
How in the world did Sayaka end up at 20??? T_T Anyway, I freaking love her. She's a different kind of idol, she redefines the meaning of coolness completely. The most powerful voice of AKB, coupled with the sharpest moves, an incredibly beautiful face and sexy abs make her a total winner!!! Seriously, you can't help but fall under the spell of Sayaka's greatness…
Ok, I'm falling asleep already, but I'll continue this super interesting ranking (lol) tomorrow. I promise. Or at least I'll try. Ok, bye! Sleep tight, I know I'll try to…
6 Comments
Sorry, the comment form is closed at this time.