Hi everybody! Well, let's see what we've got here
30. Kuramochi Asuka
Mocchi is such a cutie… She also has an amazing deep voice and is waaay too sexy. I love the fact that she ended up being in my favorite team, and I'm totally rooting for her! I'm kind of bummed that she ranked this low… but I really love most of these girls, so that makes for the low rankings not really be that low in my affections <3
31. Ohori Megumi:
Yeah, she deserves that big picture XD She's the first solo singer from AKB48, stage name Ohori Meshibe. If you haven't seen the performance of her "Amai Kokansetsu" single, then you've missed out on a lot of ecchi! 😀 I like Meetan, her pervy character really makes her stand out from the rest
32. Narita Risa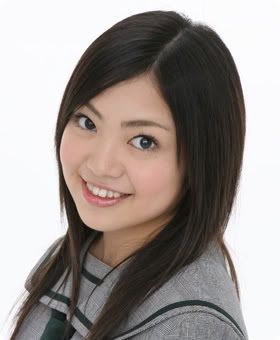 I love Risa, so I don't know why the hell she ended up being so low… Maybe she was only pitted against my favorites? Poor Risa… Anyhow, I love her sassy attitude and girly girl behaviour. She's also pretty funny, although we don't get to see that side of her often…
33. Shinoda Mariko
Mariko is so beautiful! She also has one of the best looking figures in the whole AKB, as proven by her Pendulum PB. I used to be a much bigger fan than I am now, she's been kind of… absent these days. People think that she'll be graduating soon, and somehw I don't see much of the original "idol" vibe she had anymore. She's grown up (or should I say out of idol-ness?)
34. Oku Manami
Maa-chan has astronomically grown on me. I used to skip her MCs in concerts, ignore her pictures and dub her a random AKB loli. She didn't really appeal to me in concerts either, and then I saw her performing again, and I noticed how much of a pro she has become over the years! She's also growing up to be rather beautiful, and her pleasant personality is a great change of pace from he surge of energy that is Team K. I love her now, she's amazing, and I'm glad that she's been able to prove herself.
35. Matsubara Natsumi
This is another girl who took a while to grow on me, but now I really like her. She's only placed this low because she's kind of low profile herself XD Anyhow, she's incredibly gentle and sweet, and her special talent is calming small children! I sure could use that talent in the pediatric ER XD
36. Nakata Chisato
The highest ranked Kenkyuusei! I have a very shallow reason for liking her, but if I wasn't shallow I wouldn't even been into idols anyway! She's so pretty. Like, insanely gorgeus. She needs to be added to Team K right away! (I know that she's perfect for Team A, but you know, screw them :P)
37. Inoue Naru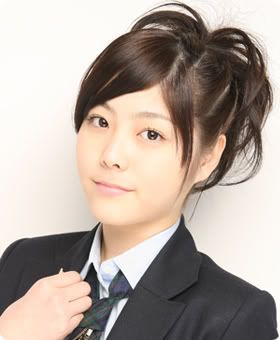 Naruppe sings like an angel, which is why I like her. I don't know a lot more about her, sadly, but her great voice is quite enough for me to give her a special place (at position 37? hmmm).
38. Hirajima Natsumi
Ah, Nacchan. She's a cult idol, so to speak, because even when she wasn't popular in Team A, she had some ultra die hard fans. I don't really get Nacchan, I guess, because I find her cute (and she's recently becoming rather beautiful as well) but that's really all I see. She's not a bad singer, but she's not AMAZING either, she's quite a good dancer, with a lot of eccentric moves though. And she also always seems to have fun, however, I just… I don't get her. I wish I could become a huge fan, because she seems quite a fun and crazy girl, but there's just something I don't quite get. 
39. Watanabe Mayu
Mayuyu is cute as hell. She's very pretty and has this aura of innocence that makes for a great idol. However, she's just the type of idol I'll never be able to get into. Now don't get me wrong, she makes me go "Aww… how cute" however that's as far as she can take me. She puts a lot of effort into what she does, but she has some sort of creepy void stare… I like to think that she really is a cyborg, becaus that makes her more appealing to me. She reminds me a lot of Suzuki Airi minus the good voice. Oh, that's another reason why I can't like her all that much, whenever she sings I cringe. She's VERY squeaky. Seriously. She'll probably grow out of that, and then I'll like her… Or not… who knows
40. Urano Kazumi
She deserves lots of props for being the big sister of the great Team B, and while I respect her a lot, I've been sort of annoyed by her lately… Her constant tiara wearing and stuck up manners used to make me lol, but I'm not really finding that funny anymore, just… you know, normal. She's improved a lot in her singing, and she's always been a great dancer but I… don't know, I don't notice her as much. Maybe it's due to the lack of Team B lately. B2 hasn't even been announced yet, and I really want B3 to end so that I can start counting the days until its DVD is released, and then I can get all hyped up about B4!! Anyway I'm rambling. CinDy is awesome, I'm just Team B deprived so I'm starting to uhh… put them aside in my mind 🙁
41. Miyazaki Miho
Ahh… the lovely and super cute Myao!! I've loved her since day one! And I'm sure that once I see her in a DVD I'll love her even more!! For now, I only think that she has the second cutest nickname other than Lovetan. Myao! Aww… Here's another pic, just because she's so damn cute
42. Naruse Risa
 I used to be crazy about Naruru, but I haven't seen her for so long now that I don't really have such a strong opinion anymore. Same as with CinDy. I'm sure that as soon as I see her again, I'll fall in love all over again, she has such a great stage presence!
43. Nakagawa Haruka
Harugon… I've always thought she looks like a hawaiian little boy, I mean that in a good way, somehow. She is so energetic that she even LOOKS like that. I mean it, even when she's standing still. However, I sadly find her a bit annoying. And it's not even her fault! I mean, I think that there are so many girls who are better singers than her in Team B, yet she gets lots more spotlight than them… I'm pretty sure that she'll grow on me when I see B3, B2 was really not tailored for these girls, so I shouldn't be basing my opinions on that one. Also, she's a very good character and fits perfectly in Team B. A little mischievous tomboyish girl is always needed in an idol group (rememeber Mai from SweetS?)
44. Saeki Mika
I know I'll love Mika the minute I see her performing Temodemo no Namida, from B3. Or as soon as I see her performing anything at all. She has this cool aura that I love, however, since I've never in my life seen her perform anything then I don't really know if her fierce looks have a matching fierce attitude. I sure hope so! Then she'll rise and rise and rise, I'm sure. Her teeth scare me though.
45. Saotome Miki
Double pic! Just for the hell of it (and because I'm too lazy to find just one pic of her…) Mikipomu has a small but very loyal fanbase. I haven't really seen her perform anything too long as to have an opinion on her, so she'll stay in this position until I see her actually performing. Sucks to be me.
46. Sashihara Rino
Awww… sasshi is so cute! I love that nickname, and I know absolutely nothing else about her XD So there you go… I'm basing this solely on her looks!
47. Komatani Hitomi
Huge pic, for the nosebleeding value of it… Hiichan is quite an eyecandy, if I might say so myself. Other than that, well, great singing voice and… well, enjoy the pic. 
48. Kitahara Rie
Well, let's look at it on the bright side, being 48 is quite the honor! Kitarie is pure eyecandy. Whenever I see her perform, I'll decide what her real position in this ranking should be.
49. Noguchi Reina
Ouch! I don't hate her or anything, I just don't have an opinion on her… I've never really heard her sing, and I've read that she's pretty funny, but I've never seen that side of her either.  She almost never smiles, but I don't get the same cool vibe I get from the "never-smiling" Mikachii with her. I'll just… need more time to make up my mind about her
50. Satou Amina
I used to like Amina, but her voice is killing me, really. Once I get used to it (because she's always on pitch, in spite of her very particular voice) I'm sure I'll like her again. She's a very good performer, and her dancing is top notch, so yeah, just give me some time…
Ok, next time: All the research students you (and I) never really cared about + Discover who is the bottom of the list *gasp* As a hint, I'll tell you that she has that position because of her amazing skills of cluelessness… Anyway, see you next time!
5 Comments
Sorry, the comment form is closed at this time.