May 22 2008
With Biyuden's time rapidly drawing nigh, I thought it would be nice to feature some of their wardrobe mishaps in the Costume Hall of Shame. Wait, did I say nice? I think I meant not nice at all.

Look at those chains! It's like her chest is a tiny prison. Well, not so tiny since it is Yui, but you get the idea. What did Yui's poor boobs do that caused her to chain them up like that? Stretch out her favorite sweater? Bouncing without a permit? Whatever it was, you can bet they'll be out on parole in no time.

This costume is made of tinfoil. I'm not even joking here. I really think it might be. On the up side, if h!p is ever in need of a disco ball, all they have to do is hang Rika from the ceiling. As an added bonus, a nice view for the wota watching from below.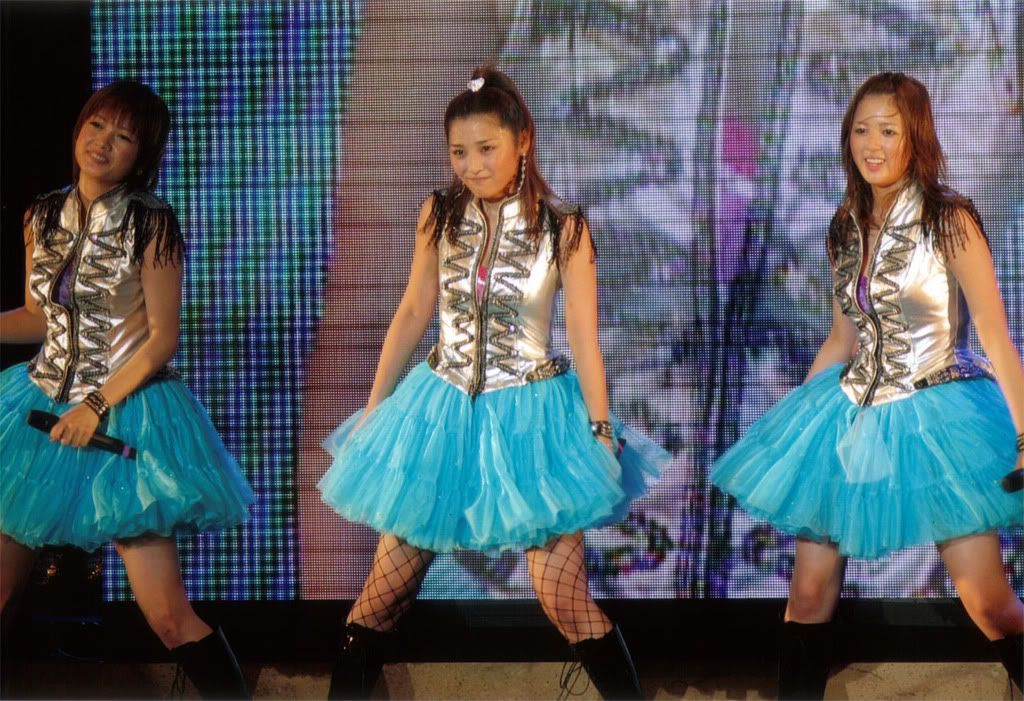 I imagine there was a big argument in the wardrobe department the day this was designed. "I'm picturing ballerina fairies…" "Are you crazy? There's nothing sexier than marching band uniforms!" "Fairies!" "Drum majors!" "Floofy tutu's!!" "Fringed shoulder covers!!!" Eventually, they were forced to compromise. Each designer got half a girl, and this is what they came up with.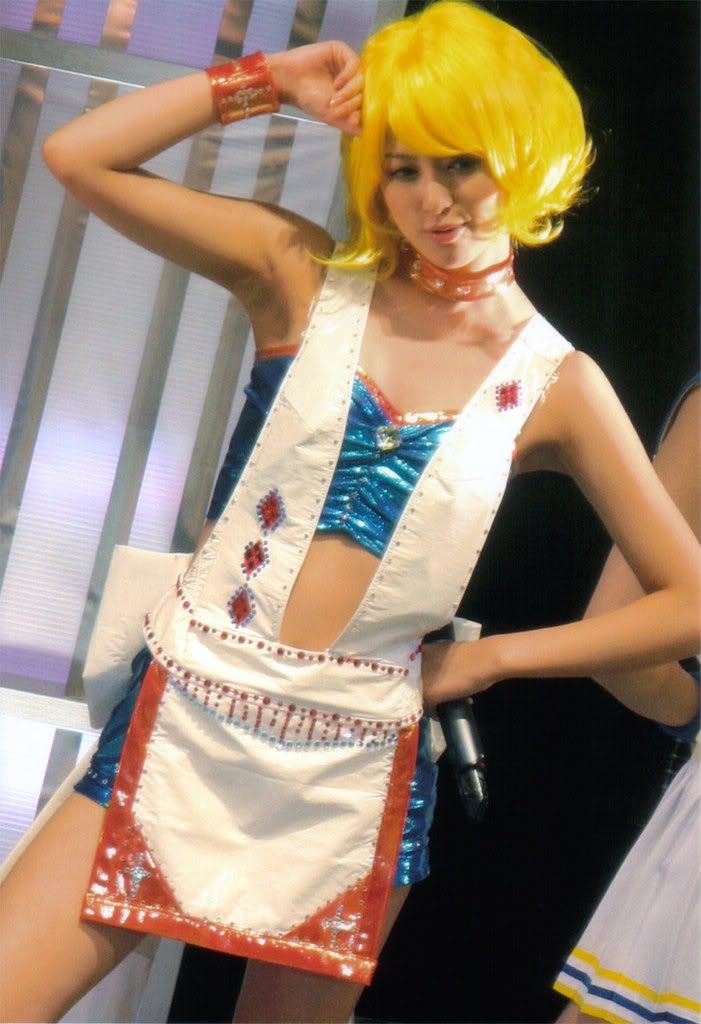 I get that all the costumes in this set are kind of intentionally plasticly and hideous, but I do believe that Yui has the worst of the bunch. Even if we ignore the atrocious wig, I cannot get past the fact that she's wearing a loin-cloth with suspenders attached. It's not a skirt, it's just a flap in front of her crotch, like a doggy door, and….. I'm going to stop that line of thought right there.
And now we move on to the VUDen's own special branch of The Costume Hall of Shame, the Costume Hall of "Have you no shame"? You see, there's wearing costumes that resemble lingerie, and then there's wearing actual lingerie on stage and calling it a costume. VUDen flirts with that fine line so often that they're bound to slip over once in a while.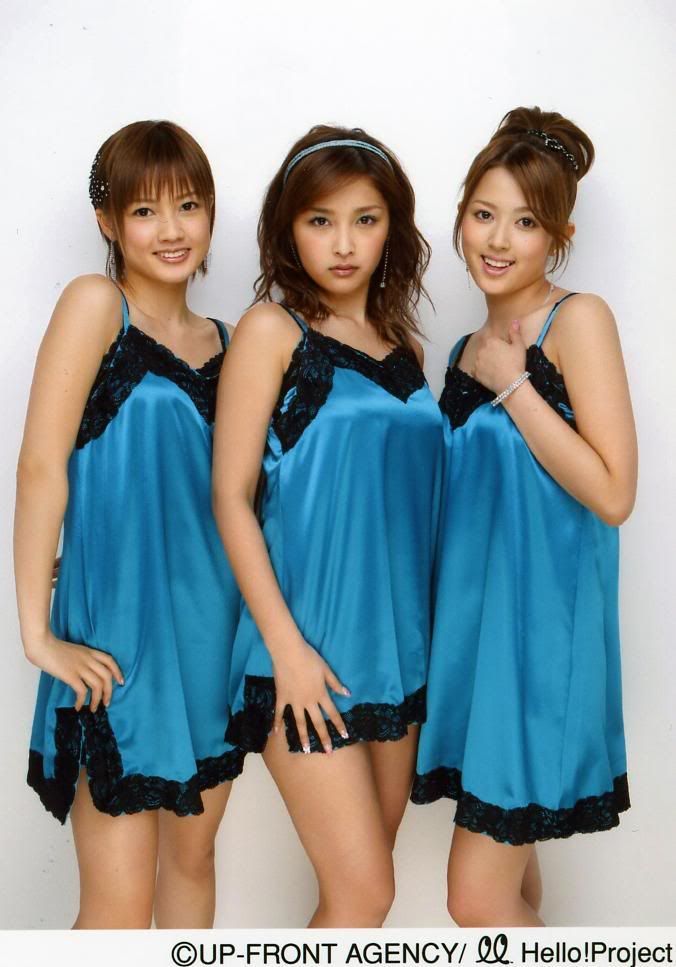 Look at how short Rika's negligee is. One light breeze, and we'll all have something in common with her gynecologist. Don't even try to tell me they don't sell this exact piece at Victoria's Secret. I'm not posting these because they're ugly. I'm posting them because they're underwear.

Because the original "Aisu Cream to My Purin" costumes were just too subtle and demure.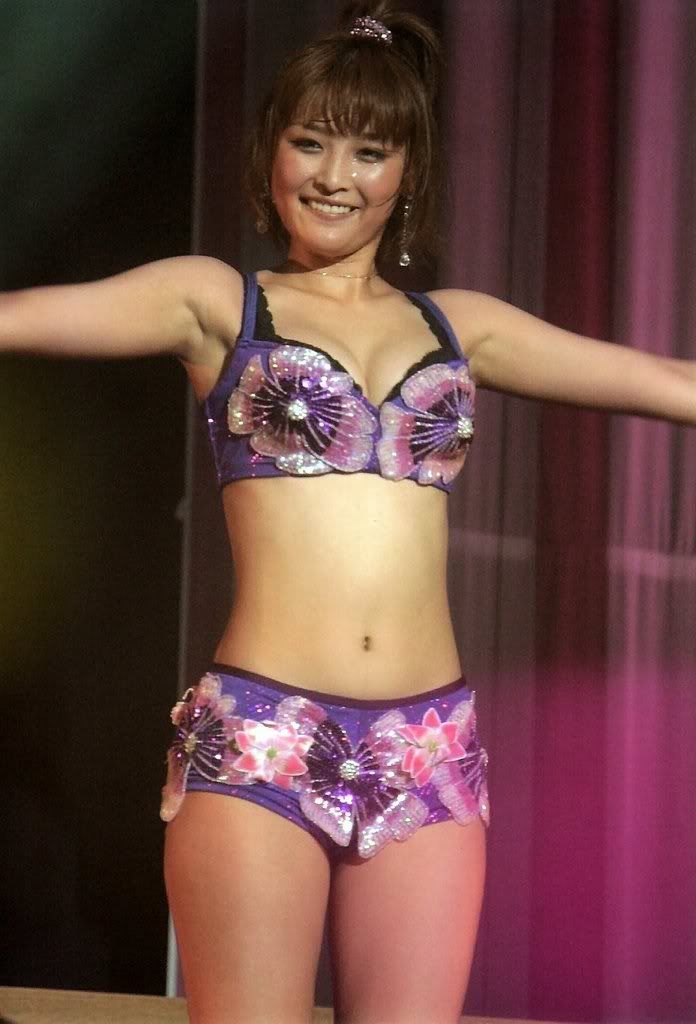 Gluing cheap fake flowers to your undies does NOT make them qualify as a costume. What it does do is result in Squirrelly McOverbite up there simultaneously qualifying for both the costume hall of shame and the hall of "have you no shame". Even worse, I don't know if that black lacy thing is her actual bra poking out from under her pseudo-bra, but it sure looks like it.

No matter how many times I look at this picture, it still looks like they're wearing diapers. Erika especially. VUDen playing to the fetish community? Slap those rabbit ears back on Yui, hand Rika a whip, leave Erika as is, and they'll be ready to tap a whole new market of potential wotas.
See? That wasn't very nice at all, was it? The real question is who h!p is going to get to slut it up and prance around on stage in her underwear now that VUDen and Maki are gone. Manoeri perhaps?
V-U-Denied!! Oooh, burn!,
~Celestia~
9 Responses to "The Costume Hall of Shame Salutes VUDen"
[…] The Costume Hall of Shame Salutes VUDen […]

#

Erica

on 22 May 2008 at 11:00 pm

I dunno; I really like the second "No Shame" outfits. They have this cute, burlesque appeal to them. They're a bit too frilly, though..

OMG.
XD
I laughed so much when I read this.

#

jupitermaiden

on 23 May 2008 at 1:20 am

All I can say is….. amen =\ Sometimes I feel weird about them being so blatantly sexual. Underwear is never an appropriate costume unless you're impersonating a Victoria's Secret Angel.

I think Manoeri should stick with imitating Björk covers.

lol. These are some of the best H!P blog posts I ever read. I hope you do more! The second "have you no Shame?" ones are particularly terrible. It doesn't help that they have a mini bunny on their chests and mini top hats on their really fake headbands and of course the garters.

[…] for the most part (though one of the costumes in this video clip was mentioned in celestia's latest Costume Hall of Shame post), and I think Miya looks adorable in […]

These are just great! Keep it up! I'm always laughing so hard when reading tese (although this particular post made me almost cry).

In the second photo poor Rikachan looks like an extremely cheap version of Marilyn Monroe.

[…] Biyuuden have suffered some of the worst costuming in all of H!P, for evidence check out Celestia's Hall of Shame , but these creations are okay and the hair pieces are really nice, Erika's particularly. The […]