Sep 28 2008
Just when you thought I had run out of costume-related pet peeves, another emerges from the shadows! This time I would like to focus on what is, perhaps, one of the worst costume sins h!p commits, the cheap-looking, poorly made costume. Ugly costumes…well…that's a matter of taste, but poorly-made= amateur. It looks like *shudders* cosplay. Not good cosplay either. Junior high kid with one year of home economics classes and no sewing machine cosplay. If H!p wants to have any hope of maintaining dignity as legitimate artists in the Japanese people's eyes, they simply cannot let their idols trot onstage wearing an unhemmed ill-fitted mess of scraps. A previous hall of shame inductee (CLICK), Country Musume's orange dresses would have fit well into this category. But enough with the old, on with the new!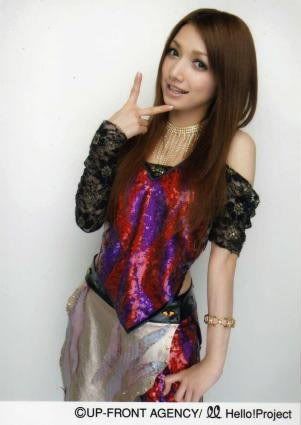 Okay Maki. It's nice that you love mermaids, and I know that your mommy went to a lot of trouble making your Halloween costume, but don't you think you're getting just a tiny bit too old for trick-or-treating? Does that costume even go all the way around? It looks like her mom might have just pinned a scaly breastplate and tail over Maki's favorite lacy 1 sleeved, 1 bicep cuffed, dress.
H!p may have fallen on hard times, but that's no reason to start literally dressing Risa in rags. It's like she rolled in a bin of fabric scraps at Quilts R Us. Pull one thread, and the entire shirt falls to pieces. Hey…maybe h!p knows what they're doing after all.
Points to Koharu for finding a way to recycle all of that old Christmas ribbon. Very environmentally friendly of her, don't you think? Minus points for the sheer tackiness of her attempt at decking the halls. Christmas-present bow corsages should never be bigger than your head. Actually, Christmas-present bow corsages just shouldn't be.  And what's that white thing peaking around from behind her? Is that a tail?! Double minus points for the overt cosplay!
And this is completely unrelated to today's topic but…
RIKA! How many times do I have to tell you!? Your underwear goes under your skirt, NOT over it.
End bitchery for today,
~Celestia~
7 Responses to "Costume Hall of Shame: Next Time, Hire a Professional"
[…] Costume Hall of Shame: Next Time, Hire a Professional Resonant Live Set List More Happy Egg News […]

#

Amanda

on 28 Sep 2008 at 4:42 pm

Another hilarious post. How do you do it?

XD this post was hillarious. I seriously LOLed on the Rika one too XDDD That was a nice ending to a great post!

haha… my comments are:

for maki: H!P has colour crisis

for gakki: is she in some kind of act acting as the pauper princess?

for kahori: fashion and colour crisis but apparently i heard no more colour matching trend-it's impasse already

for rika: someone inspired her to become superman? whoever approved this design really has fashion crisis.

#

Wendy Liu

on 30 Sep 2008 at 1:29 pm

Why make fun of their costumes? >_>;
They're not the ones who make them.
It's the ppl who work in UP! FRONT.

The stuff that they put on Rika is so ridiculous…

#

Andrea

on 20 Oct 2008 at 2:21 pm

yeah,rika-chan! keep doing these posts!