Jan 01 2009
I've mentioned this before, but Berryz is having terrible luck with costumes lately. As though rubbing salt in the wound, in the same time period, C-ute has come out with some of their best costumes ever. First, let's look at some of C-ute's recent outfits.
Hawt!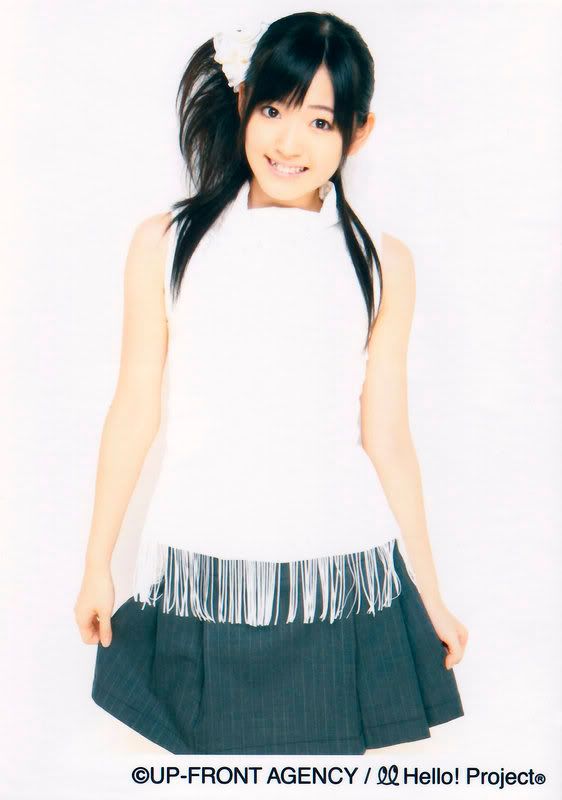 Simple, but nice.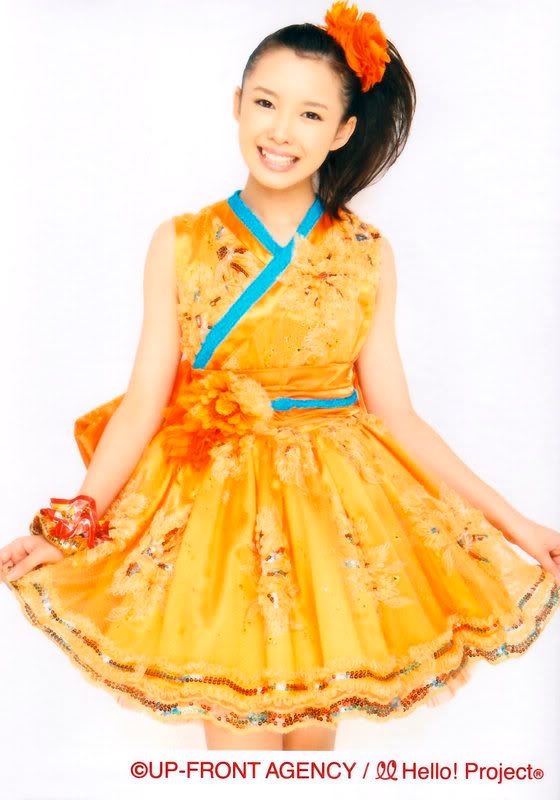 Oooh, pretty! And bonus points for being in the member's colors.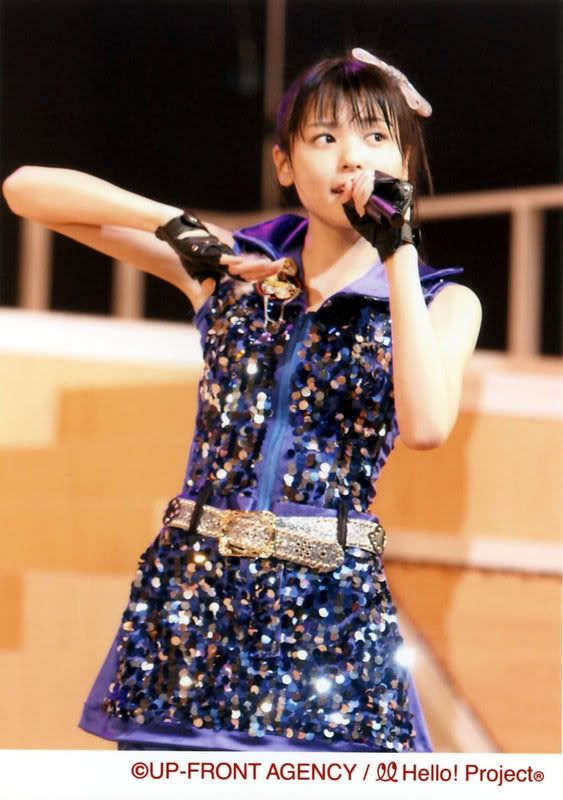 Cool!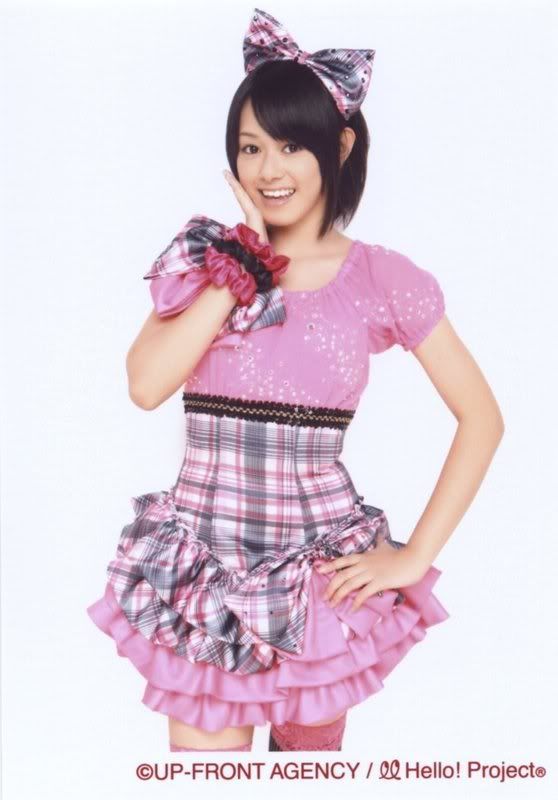 Kyaa! So cute!! Favorite costume of 2008.
*sound of a record screeching to a halt* Poor Berryz. Last time, they were forced to wear monkey suits. This time it's highly unflattering "retro" dress things with awful leisure suit collars and clashy unappealing colors. I'm not sure which was worse.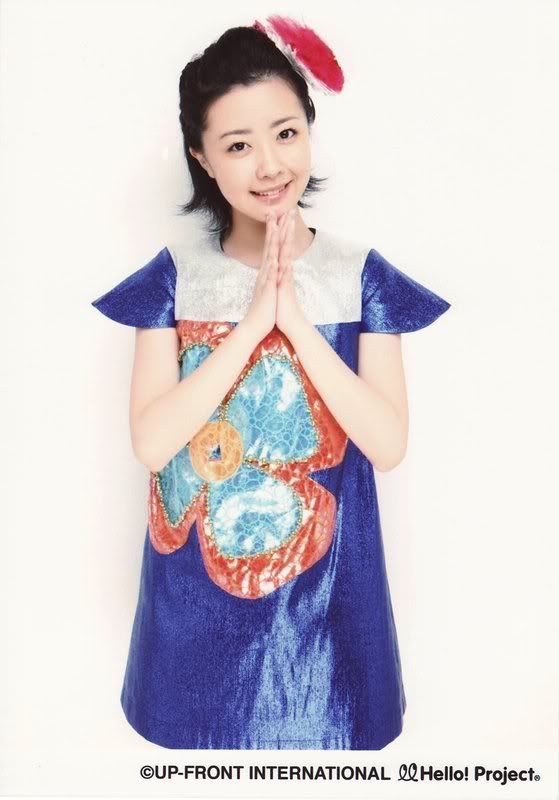 "Beam me up Chinami"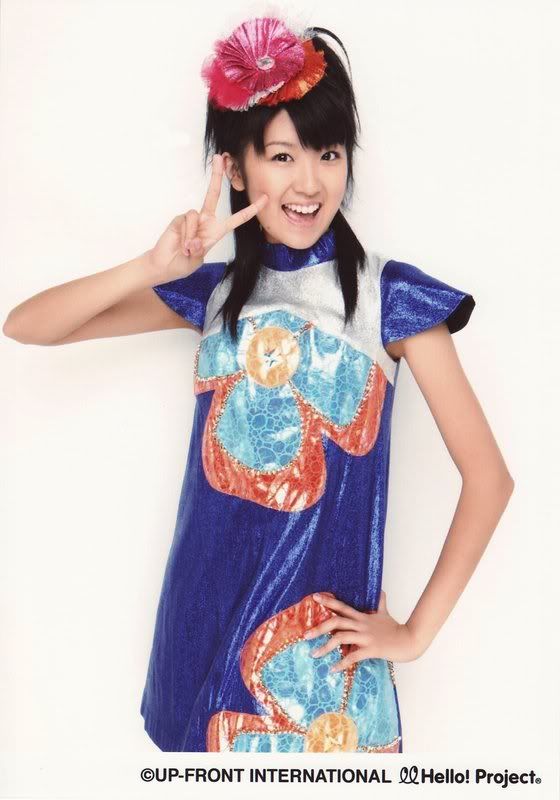 "Yes Captain!"
So the overall theme is "Shiny Space Cadet Mumus". There are so many things wrong here that I'm going to have to put them in list form.
1. If you couldn't tell from the opening commentary, I'm getting a strong "Star Trek" vibe from the necklines and sleeves.
2. The huge flower things on their heads don't match in the slightest.
3. Then there's the huge flower things on the dresses, and is that alligator print in the petals? WTF??
4. As I've come to expect from Berryz, these dresses are boxy and totally unflattering. A common theme you'll notice here is that most of Berryz costumes are specifically designed to make them each look about 20 lbs heavier.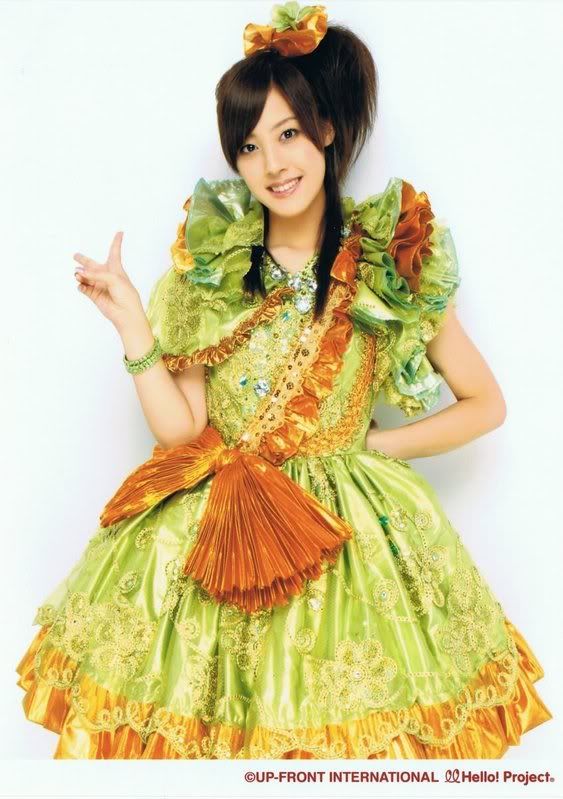 It's a over-ruffled taffeta nightmare! What is with all that neck rufflage? Only clowns wear neck ruffles like that!! And the bow looks like something that was formerly used to secure large, musty, velvet curtains in an old mansion somewhere. I haven't seen the stage play, but I'm totally rooting for the evil Berryz, because anyone who wears this outfit deserves to get her ass handed to her.
I've saved the worst for last. Saki Shimizu is a tiny person. I want to be angry about what this outfit is doing to her, but I can't because I am so very impressed that someone could design a costume so fattening that she looks like she's 8 months pregnant with twins.
"Miyabi-Lu-Who and The Poof Pants of Froo" would be a great title for a Dr.Seuss book, don't you think? You could fill this outfit with helium and she's float away like a big singing balloon!
Just Apologize Already Yurina!
~Celestia~
10 Responses to "Costume Hall of Shame: Did Yurina Accidentally Step on the Costume Designer's Cat or Something?"
[...] Costume Hall of Shame: Did Yurina Accidentally Step on the Costume Designer's Cat or Something? [...]

Hey, I'm sure that if Risako was in C-ute nobody will say she's fat. It's impossible not to look huge in those hideous costumes.

I'm sick of all the Berryz shafting, they were the first Kids group!! Where is the respect, people!!!!!

#

Sora

on 02 Jan 2009 at 4:30 pm

ummm why Yurina?

#

celestia

on 03 Jan 2009 at 7:19 pm

@Sora. Lol. No reason really. I just picked one who wasn't featured in the pictures

#

Sora

on 04 Jan 2009 at 1:54 pm

lmao. i thought you had something against Yurina or something XD

[...] of Bikkuri Project made a post about the crappy costumes of Berryz and I really am annoyed at that. the MADAYADE costumes, while sort of cute, are made of fail. I [...]

[...] Celestia (BIKKURI! PROJECT, the best Hello! Project blog ever and the coolest Japan traveler ever) gave me [...]

[...] i don't like the dead hamster under her hat. It looks like the stylist finally forgave Yurina for stepping on her cat and finally gave them some decent outfits. The hair and make up looks brilliant and omg Chinami! I [...]

#

Jamie

on 16 May 2009 at 2:02 am

it's really weird but something about the space mumu's is kind of endearing. The retro outfits from Madayade, my thoughts are, it looks good on one or two of them but most of them it looks like crap >.>

Well, this is a great story, and I see you have lots of other great stories, too! Too bad I didn't meet you at Sakura-Con, aouhltgh we were in the same places, of course. (In fact, that was my Guest Reception video you included in your post!) I wonder if I might've been right behind you at the concert how tall are you? Were you in the center, about 5 or 6 rows back, and did you and your friend have backpacks? If that was you I'm sorry for grazing your head with my glowsticks a couple of times! ;-D
Leave a Reply