Mar 06 2009
Don't worry. I'm talking about h!p concerts, not cocaine or anything. Lol.
But seriously, I've actually be craving concerts lately. I check the internet to see what tickets are available on a daily basis, I dream about them regularly…I need to go to a concert, preferably a Morning Musume concert, RIGHT NOW. Ug. I sound full of crazies, huh?
Maybe discussing some recent h!p events would be a good distraction.
Mano Erina- This girl is getting promoted hard core. She's all over the place on magazines, radio shows, etc. Well, I guess with the elder club graduation and Koharu's vocal suckitude, h!p really needs to produce a viable soloist right now. Mano has got the looks, there can be absolutely no doubt about that. I also find her inclusion in dramas very very promising. I've long been saying that h!p needs to utalize dramas more as a vehicle to get their stars' names out there, and if Mano is being pushed in that direction, which it looks like she might be, it could be a very good thing for her and even h!p as a whole. She seems to be a promising little actress too. I've heard a lot of criticism of her vocals, which I admit are a little flat, and her songs, which I admit are a little boring, but at the same time, I can of understand the direction they're taking with her. Erina isn't being marketed as another cutesy hyper idol, they're giving her an image of simple beauty, purity, and above all, freshness. Her songs and singing style really reflect that image. With her debut coming up shortly, we'll soon see how well that image resonates with the public.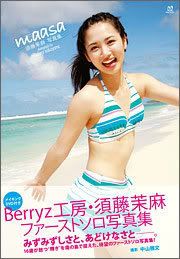 Maasa gets a photobook- And everyone suddenly understands why she's lost weight recently. I do kind of wonder if the weight loss was her choice, in preparation for the book, or if it was more like they told her "Look, we want to give you a photobook, but you've got to lose a few kilos first…" Anyway, I'm not a huge Maasa fan, but I'm really hoping and praying that this is a sign of a new wave of photobooks for other girls who haven't had one yet. Please, oh please, oh please!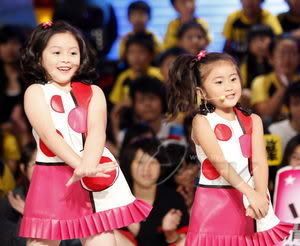 Really young kids- First the new (not h!p but nicegirl, so related) group, Nice Girl Mu, which appears to be all u-10. Then, we hear that Francis and Aiko, the little girls from the Taiwan auditions have been officially made into a unit as well. Here's the thing: from the point of view of these little girls and their well being, they are far too young to be idols. A six year old doesn't know what she wants. She might like dancing around on stage and having everyone pay attention to her and cheer for her, but she won't realize what she sacrificed for that until she gets older and it's too late. I fully blame the mothers for this. At the same time, from a business standpoint, it makes a lot of sense. Idols peak at a young age, late teens or so, and like any sport/industry where the participants peak at a young age, the younger you start them, the better. Look at gymnasts or figure skaters. I used to take skating lessons casually, and I can't tell you how many 5 or 6 year olds were having private figure skating lessons on a daily basis. You could practically see the olympic medals gleaming in their mother's eyes. If you recruit a girl at a more reasonable age, say 14, you've only got about 6-8 years, maybe a few more if she's popular. She'll need training at first to become comfortable on stage and develop an image, so that's a few more precious years wasted. It's not a good return on your investment. Recruit and start training when she's still a little kid, and by the time she hits her early teens you've got an experienced and confident idol with a fanbase already in place. This strategy worked very well with the h!p kids, so it's no surprise that they're trying it again.
Almost 2 more months….
~Celestia~
One Response to "Hi. My name is Celestia, and I am an addict"
I have to admit that I have a brutal concert addiction that finds me in Yokohama every January now, no matter if I can afford it or not. Next problem: Morning Musume in L.A. in July! Holy, moly, get me some more aspirin.
Leave a Reply