Recently, Ray of Idolminded and now Pure Idol Heart posted THIS on Pure Idol Heart. As a fan of Pure Idol Heart in general (having named it my blog of the year at Idolminded) and as a fan of Ray's writing (at Intl Wota and now Idolminded) I was really interested to hear what he had to say.
A big part of this is because indie idols are near and dear to my heart. While I got into idols (like many people) with Hello!Project, and I have favorite idols in the current Hello!Project (Ishida Ayumi, Tamura Meimi) and in the 48 groups (Watanabe Miyuki, Oota Aika, Natori Wakana) as well as in Momoiro Clover Z (Sasaki Ayaka), if I had to name my favorite idol groups, or the groups I support the most it would be:
Team Syachihoko  (Major)
rev.from DVL (indie)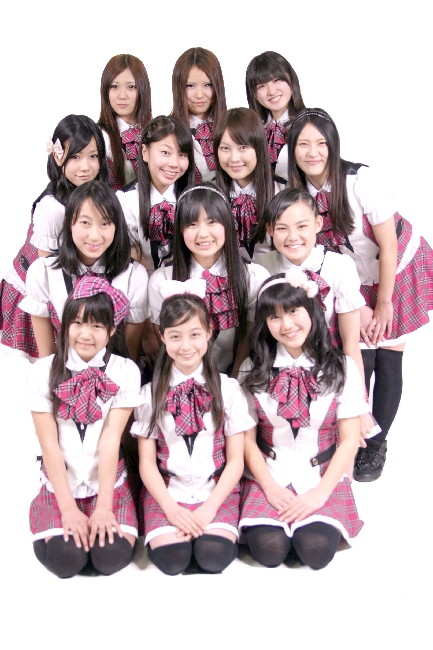 Rhymeberry (Indie)
Dempagumi.inc (Major)
BABYMETAL (major)

and MMJ (indie)
Notice that next to each group I put their status and they're fairly evenly split. Rhymeberry, rev.from DVL and MMJ are all technically indie and Babymetal, dempagumi.inc and Team Syachihoko are technically on major labels. However, for me it's almost hard to differentiate. To me, all of these groups have an independent feel to them, regardless of their actual status as being major or independent. Both Babymetal and Rhymeberry are really interesting in regards to genre-bending. Team Syachihoko still performs primarily locally in Nagoya, and are really local idols like MMJ (Hiroshima) and rev.from DVL (Fukuoka). My most recent favorite, dempagumi.inc, is technically a local group (for Akihabara), and, in my opinion, have done their most interesting stuff recently, after a roster change and spending some time on a major label (including their genre-bending cover of the Beastie Boys classic 'Sabotage')
All these groups have a lot of enthusiasm, a lot of energy, and a lot of excitement, moreso than some of the major acts I've encountered. In my head I refer to all of them as indie idols, even though that's not exactly the case. As Ray mentioned, things aren't necessarily very cut and dry.
To me, this reminds me a lot about independent films, specifically the current Independent Spirit Awards. As you might imagine, the Independent Spirit Awards is an award that is given out to independent filmmakers. This is something I really appreciate, given the power that the major film studios have. However, last year Silver Linings Playbook got four awards including best film, best leading actress, best director and best screenplay. Now, let me just say that I absolutely adored Silver Linings Playbook; it ended up as one of my favorite films of the year (though Moonrise Kingdom ended up being what I considered to be the best of 2012). However, I would be hard pressed to call it an independent film. It had a budget of over 20 million dollars (which to many films is a very small budget) and was partially produced by and distributed by the Weinstein Company, a major force in awards season films, especially. They distributed The King's Speech and The Artist, both which won the Academy Award for Best Picture. Again, I liked both of these films as well, but it's hard to define these as independent films. Likewise, there are many films that come out from major studios that are almost designed to have an indie feel and appeal to the audience that likes that sort of thing. Indie, rather than a category for finances, has become almost an aesthetic and stylistic choice more than anything.
I also found what Ray said about pushing boundaries quite interesting. Because out of the six groups I named, the "safest" or most traditional (I'd argue) are MMJ and rev.from DVL, the two indie acts, whereas the major label acts are pretty eccentric. Innovation is happening both in the indies and in the now majors, so it's exciting stuff.
I don't know if I have much more to add other than agreement; it's a tough and somewhat nebulous distinction to make, even if it initially seems cut and dry.