There are now 211 groups confirmed for this year's Tokyo Idol Festival, which means I have my work cut out for me! Also when I started this post it was 181. God help me.
Idol Choho Kikan Level 7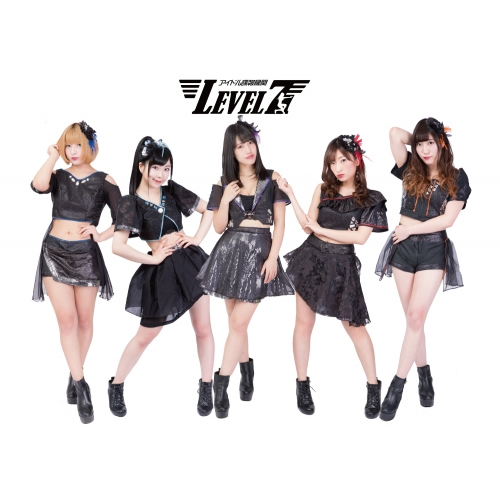 Their name means Idol Intelligence Agency Level 7, and their concept/gimmick is that they are idol spies, which I think is just about the best gimmick I've seen from an idol group in a while. The fans are the "boss" and the members go on "missions" to infiltrate idol activities (variety, gravure photos). Right away I absolutely love this gimmick, and I think it's super clever.
Level 7 (which is their much more commonly used name) was formed in 2014, but they haven't done all that much yet – while they perform around the Tokyo area, their only website is an Ameba blog, and they've so far released two singles officially and one venue-only single. So while this gimmick is great, they don't have all that much stuff out there. Their YouTube has quite a few long (over 30 minutes) digests of their concerts, so if you're interested in them that can help. That said, this seems like a tough group to follow for foreign fans. Taking a look at their live videos, though, their music is a lot better than it has a right to be. Their music all has a "cool" feeling to it, not always rock but not being the typical cute idol pop. Strawberry Trap in particular is very catchy, but I also like Taboo and Bravery. So I'd definitely check them out. They're a small group without much out there but their music is better than it has a right to be and the group has a great energy while performing.
atME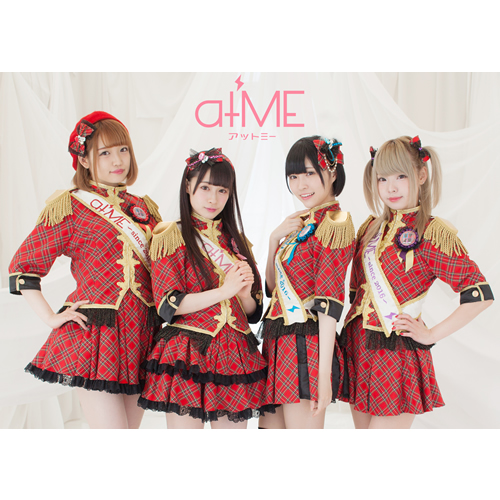 atME is a four member unit that formed in May of 2016 so just about a year ago. They want to promote having strong visual appeal but also strong performances as well. The thing I find interesting, though is the fact that while this is what they say on their TIF profile, on their (not linked) website they specifically point out that they're a "next generation" idol group aimed at the yutori generation (basically a younger generation seen as getting lenient education), emphasizing them as rebellious and passionate in a way that makes me wonder if I'm missing something from my limited Japanese translation.
They don't have a ton of music or live stuff out, but they seem like a fairly standard idol group with a more hard rock sound than most. Still, their debut song Paralyzer is solid and they seem like the members are pretty talented. I'm not sure how much their next generation theme really does anything, except for influencing some lyrics, so it's hard to say if this will actually result in much. Their most recent video on their YouTube channel is from August 2016 so they aren't terribly active, but if you like a rock sound with your idols and have explored more conventional options atME could be something you check out.
Iginari Tohoku San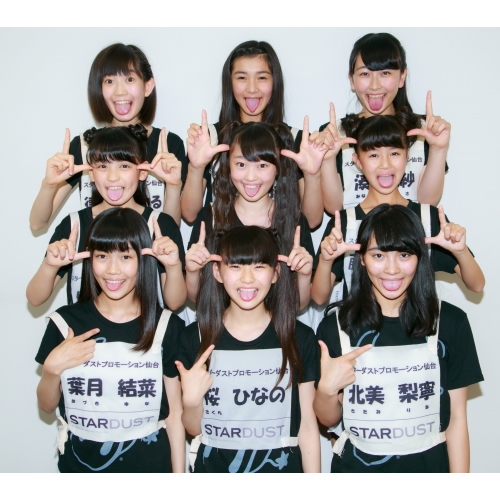 The first Stardust unit I've covered this TIF! Iginari Tohoku San is a unit based in Tohoku and is considered a "Lesson unit" so they're more of trainees than anything. Formed in 2015, Iginari Tohoku San is very much just getting started. Because of this, there isn't much – they've released one single (another coming in a few weeks) but it's only for sale at events and at HMV Japan. They've also released a single with Sakura Ebi'~~s, the Shiritsu Ebisu Chuugaku trainee unit, who they did a concert with as well. That said, since they're produced by Stardust it's easy to anticipate that they will grow with time and that their standard of production will be high, so while there isn't much yet it's easy to expect they won't just fizzle out – all of their singles have been released within the last few months. If you've been wanting to follow Stardust idols from the start of their career, this is your chance. Like other Stardust groups they're a ton of fun and energetic, so I am excited to see where Iginari Tohoku San goes!
Iketeru Hearts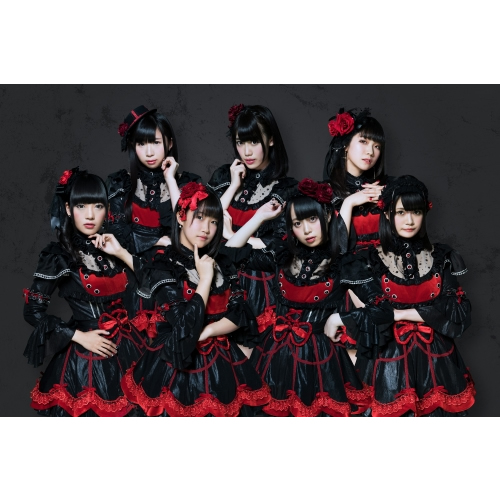 Iketeru Hearts is a sister group to Afilia Saga. Formed in 2014 they were originally trainees with some members being promoted to Afilia Saga before they were all promoted to being full idols in 2015. In 2016 they made their major debut with "Let's Stand Up," which was written by Tsunku – so far they've put out four singles in total. Their goal is that through their singing, dancing and smiles they'll make negative people positive.
Unfortunately a lot of their videos are region locked, which is a shame for foreign fans. Curiously, the leader of the group, Arata Yuyu, has a YouTube channel that's pretty active and possibly your best window into Iketeru Hearts if you're not willing to use something to get around the region lock. Since the group has performed in France and Singapore it does seem like they want to expand internationally, so hopefully their label will work to get their videos out of the region lock.
They seem like a pretty fun group – if you like Afilia Saga then you'll probably like Iketeru Hearts who have a similar vibe, considering they're sister groups. They're upbeat and fun, and if you're interested in a group like this then Arata Yuyu's YouTube might be a fun look at the group. They're a little tricky to follow as a foreign fan, so they will probably appeal mostly to foreign Afilia Saga fans, but if you like upbeat energetic groups they are definitely ones to check out.
Ichigo Milk iro ni Somaritai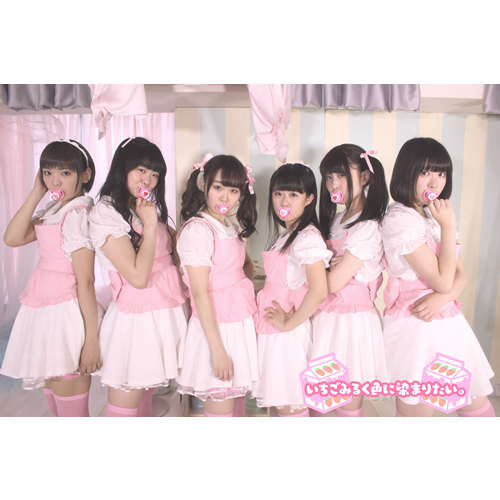 I did a serious mental debate as to whether I should post this post or not. I almost had a "well, I'm done with this TIF coverage" moment when I saw this group pop up because I did not want to talk about them at all, but I feel like it would do a disservice to not present the idol industry as it is, warts and all, so here's the wart – a group I'll just call Ichigo Milk.
To be absolutely fair, this group has a decent amount going for it. It's produced by former Otome Shinto leader Takahashi Yurika who created the group and their aim is the Budokan, in part because Otome Shinto never made it there. So in many ways it's her passion project, which I really enjoy. The group is specifically very girly and pink.
Honestly my biggest issue right now are those pacifiers. They show up in the group's promo images and it's infantilizing and uncomfortable more than most other idol stuff I've covered for this blog. Lots of idol groups appear, act or are young, that's no secret. And while I'm not a huge fan of a lot of this (I wish more groups would take a mature approach), it's OK to have idol groups to be cutesy and I like stuff like this. This is blatantly taking an idol group and presenting them as infants. And I really don't like that. It's not fun or silly, it's kind of gross in a way. A lot of you may feel like I'm overblowing this, but this is sincerely very offputting to me in a major way, to the point where it made me feel like I didn't know how much more I wanted to follow TIF or indie idols. Or idols for that matter. And while I'm sure I'll forget about this group for the most part and go back to liking my other idol groups, right now this is not a great look.
For what its worth their first song and video, Lollipop, is solid for the most part. Not great but a catchy enough song and a pretty fun PV until the end. But until they drop this part I can't in good faith recommend them at all.