Well, whenever I go back and look at my top ten idols list, it always seems like things change a lot. I know things have since I started Happy Disco (my original list was all Hello!Project, wow). This list is always pretty difficult to make, because as an idol enthusiast I have a lot of favorites. Even if someone slipped down my list at all or is omitted, that only really means that I have another idol I like better, not that I like them less.
10. Tamura Meimi (S/Mileage)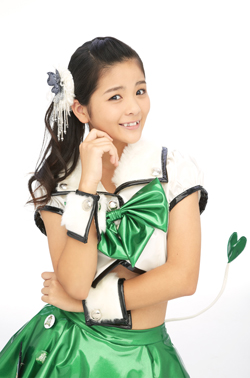 S/Mileage's second generation are four of my top five members in current Hello!Project. While I like Kanyon and Ayacho, if S/Mileage's second generation formed an idol group on their own I think it would be one of my favorite idol groups ever. I think they all have a lot of strengths, are a lot of fun, and are super adorable. Picking one as my favorite is hard; however, it ends up as being Meimei. She's just so energetic and excited, that Meimi was actually the one to open me up to Hello!Project after being a bit cynical regarding them for a while; Meimi felt and still feels fresh. I love her energy, her enthusiasm, and just how mischievous and fun she is. One of my favorite things was when she basically trolled everyone by setting up a blog entry sounding like she was graduating… only revealing she was graduating from using "-chan" to refer to her friends. Meimi not only loves her fans, she trolls them. She's cute, energetic, fun to watch, and just a weirdo.
9. Ishida Ayumi – Morning Musume
For most of 2012 Meimei was my favorite in Hello!Project, so putting Ishida Ayumi over Meimi is a pretty big change. Ever since Morning Musume's 10th generation has debuted, I've been fond of Ishida Ayumi, and she's been my favorite Morning Musume member for a while. However, since I don't really follow much of Morning Musume, it didn't really click with Ayumi as a favorite member until recently, and even then it was a slow build. I first became really impressed with her when the dance shot to One Two Three came out, since Ayumi's performing strength is in her dancing. Slowly I began to find out more about her personality, and found out that while she's a sweet person she's almost a closet wota/creeper  of her fellow members. In one blog post in particular she took pictures of all of her fellow 10th generation members sleeping and posted them on her blog, saying how cute they all are. She's a hard worker, a strong performer, and has a really sweet personality. She's making me follow Morning Musume, which is what qualifies her as one of my top idols. Honestly, if I followed Morning Musume more closely than some of the other groups, Ayumi could move up my list because I like her that much.
8. Watanabe Miyuki (NMB48/AKB48)
Putting Milky this low is ridiculous for me. Honestly, this is a tough spot. Once you get past the two Hello!Project girls (who I really love, but aren't my favorites), my top 8 is really where I have strong feelings. My top 3 48 girls shift around places a lot, so one day Milky might be my #1 girl in AKB and one day she might be my #3, like today. Normally, within AKB48, I tend to go for the lesser popular girls (though the one girl who just barely missed this list is Kashiwagi Yuki, AKA #3 in AKB48), but I've been a Milky fan since the early days of NMB48. I can wax poetic about how perfect I find Milky (and have, on my tumblr HERE) but basically she's a natural idol who loves idols. She has tons of charisma, has been able to endure a scandal and come out on top, and ultimately really loves what she does and being an idol. She's also really funny and strange (I adore the whole "chapu chapu' movement), and is a fan of Ishikawa Rika, which does help. She's one idol who's a natural, and it's definitely appealing Plus her photobook, Mirugami, was my favorite of 2012 and possibly one of my favorites ever
7. Oota Aika (HKT48)
Lovetan is a very adaptable member, which is probably her biggest strength. She went from being one of the cute younger members of Team B to being one of the middle-range Team A girls (as well as center of the Undergirls for a while). She started off young and as one of the cuter members of AKB48, but she's been able to adapt to more mature things as she's gotten older (look how cool she looks in that outfit from Show Fight!). And finally, she's moved to HKT48, where she's now the most experienced member. The thing I've always liked about Lovetan is just how natural she is, and how honest she really seems. Perhaps that's her "tsundere" personality, but she doesn't shy away from showing her emotions or expressing them. She's a real sweetheart who I always love watching. I was really disappointed to see her huge drop in the AKB48 election (though not in her; she's been doing great), so I'm hoping that she can shine in HKT48 through the future. I honestly think this is a good move, and I can't wait to hear more from Lovetan! Seeing her growth as an idol from Team B to today has been a privilege, and I'm proud to be a Lovetan fan.
6. Natori Wakana (AKB48)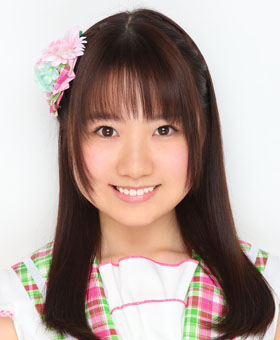 Wakanyan's not an easy idol to have as my AKB48 oshimen. She only recently was promoted to Team B, and before that was a kenkyuusei that missed the whole Team 4 thing. Despite that, Wakanyan is really fantastic. I initially became a fan of hers because of her performance skills; she was Kashiwagi Yuki's under and performed as Yukirin in kenkyuusei shows, which shows that AKB trusted her to do a lot. She was also the first person of her generation to perform the solo kenkyuusei song "Romance Kakurenbo," and has proven herself both an excellent singer and an excellent performer. However, aside from this I just love her personality. She's worked so hard since her debut as a kenkyuusei, and on the 11th generation special of Ariyoshi AKB Kyowakoku she won my heart by being brave enough to not only pick up one snake (in a test where they had to put snakes back in their containers, to "test bravery) that bit her, but going back again. She also seems to have a good personality whenever I see LODs or look at G+.
5. Mizuno Yui (BABYMETAL/Sakura Gakuin)
Look at that face and tell me she isn't the cutest thing you've ever seen. In all seriousness, I love watching Yui's enthusiasm when performing and in PVs, both in standard idol group Sakura Gakuin and heavy metal unit Babymetal. While I adore every member of Babymetal and I enjoy both Suzuka and Moa a lot as idols, something about Yui sticks out to me. Probably how happy she looks singing metal music. If anyone can have a huge grin on her face while performing metal, it's Yui. But she has a level of happiness and enthusiasm that I just love in an idol, and has the cutest smile ever.
4. Aso Natsuko (soloist)
If you missed it, yes that is me and Nacchan at the Hyper Japan event this February in London. 🙂 (read my post about that HERE) Putting Nacchan this low really sucks, and I think is a real testament to how strongly I feel about other idols. However, seeing Aso Natsuko live was amazing; she has such crazy charisma and energy. It was an incredible experience I hope to experience again. She's a real sweetheart and a great performer, and an all-around great idol. It takes a lot of charisma to be a successful solo artist, and Nacchan definitely qualifies.
3. Sasaki Ayaka (Momoiro Clover Z)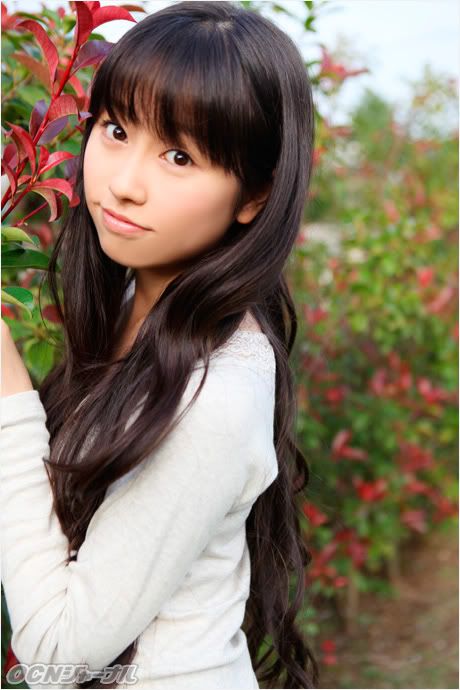 A~rin is in the "natural idol" category. Seriously, if there are any girls who are born idols, A~rin is one of them. Every time I see her performing, I can tell that she's obviously loving what she does and that she's having a great time with what she's doing. I personally also love her performance; while she may not have the best voice or dancing, what she is good at hamming it up during her solos and giving a good performance. I also have a strong affection for cute idols and idols that have an "idol-like" personality (and she is referred to as MomoClo's idol in her introduction). While all the MomoClo members are good in their own way and I'm fond of all of them (especially Reni, who's really weird), I'd argue that A~rin's the most fun and playful member. Not to say that she doesn't take her job seriously, but she has just a fun personality that shines, on and off stage.
2. Ishikawa Rika (ex-Morning Musume/v-u-den)

She's topped every single list I've ever had until now. This might be a surprise to you if you know me, and it surprised me when I realized it. However, I think this is mostly a result of not being very active any more (I'd tentatively still call Rika my all-time favorite, as this list is primarily current). Simply put, Rika is one of the most driven idols ever, a hard worker, a role model for younger members, and is one of the strongest performers (not vocally, but on pure strength of dance/performance skills). Rika, is in my opinion, the gold standard for idols everywhere; there's a reason that two of the top idols in the 48 empire, Watanabe Miyuki and Kashiwagi Yuki are huge Rika fans. She has a great personality, great performances, and I'm proud to be a Rika fan, which has not wavered at all since I became a Rika fan. That being said, when deciding this I couldn't ignore the sheer power of my #1…
1. Ooguro Yuzuki (Team Syachihoko)
Yuzuki is the first idol to surpass Rika since Rika became my favorite near the end of 2008/beginning of 2009. Which, as a big idol fan, says a good deal. I initially pegged Yuzuki as being my least favorite of Team Syachihoko, because she didn't initially stand out to me in my initial viewing of The Stardust Bowling's PV. However, despite this, when I first watched a live performance, I saw how strong Yuzuki really is. The thing about Yuzuki is that, even though she's probably in the middle of the group in terms of skill, you can tell she's clearly giving a huge effort every time she performs. She has a ton of enthusiasm, and every performance you can see how hard she works and how much she enjoys herself. She is a sweetheart, clearly loves being in Team Syachihoko, and is the most fun idol to watch right now.
Honorable mentions: Kashiwagi Yuki (AKB48), Iwasa Misaki (AKB48), Matsui Sakiko (AKB48), Miyawaki Sakura (HKT48), Yajima Maimi (C-ute), S/Mileage's 2nd generation, all the other members of Team Syachihoko and Momoiro Clover Z, Kyao (MMJ),