HALFWAY THROUGH, I WILL PREVAIL.
Day 15: Your favorite Momoiro Clover member.
Easy easy easy it's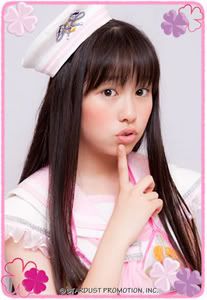 A~rin, Sasaki Ayaka!
For those of you relatively new to my blog, I LOVE Momoiro Clover. They're probably my all time idol group. They're energetic, fun, cute, all around great dancers and singers. Their newest line-up, Momoiro Clover Z, is looking to be great; they're having two singles come out next month, and I plan on reviewing both songs/PVs.
I love all the members, at least of the line-up that have had singles (MomoClo was a VERY indie group, and had former members before they even got a PV), but A~rin's my favorite. She's the "idol" type of Momoiro Clover, has the color pink in their color scheme, and is quite girly. She's also fairly mature as a person, despite being only recently 15 and the youngest of the group. She's cute, fun to watch, and has a nice, fun-loving personality.
Also, I'm quite convinced she's the idol second coming of my favorite idol ever, Ishikawa Rika. Ayaka's from Kanagawa (same as Rika), has the color pink, is the member that is both cute/sexy, is a bit strange, and is mature for her age.
But seriously, I love all the members of Momoiro Clover, and so if you aren't too familiar with them I urge you to check them out!